UPDATES!!!!!!!!!!!!!!!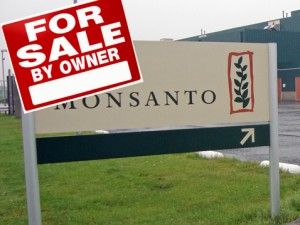 Monsanto executives and insiders are dumping Monsanto stock in record volumes, sending the stock price spiraling downward. CEO Hugh Grant just sold off 40,000 shares at $97.74, and both Janet Holloway and Gerald Steiner - both high-level Monsanto executives - recently ditched more than 10,000 shares each. Tom Hartley also bailed on another 6,000 shares at $100.15.
Hedge funds, meanwhile, are also dumping Monsanto stock, most likely due to sharply increased "negative sentiment." This means people increasingly don't like Monsanto, and that's a direct result of all the growing realizations about the dangers of GMOs, Monsanto's predatory business practices, the company's dangerous experiments that have already unleashed genetic pollution, and the fact that
GM corn has been experimentally found to cause widespread cancer tumors
in rat studies.
Just the fact that Monsanto's GE wheat trials got out of control and contaminated a wheat field in Oregon - causing Japan and South Korea to ban U.S. wheat imports - has resulted in
150 groups now demanding the USDA keep a tighter lid on Monsanto's GMO experiments
. These groups are fed up with seeing the market value of their crops destroyed by sloppy "open field" experiments being conducted by Monsanto that spread
genetic pollution across the country and contaminate non-GMO crops. (Monsanto goes even further and actually sues the farmers whose fields they contaminated!)
Hedge funds dumping Monsanto
As
InsiderMonkey.com reports
, Monsanto "has experienced declining interest from the entirety of the hedge funds we track."
The report goes on to say:
At the top of the heap, Jeffrey Vinik's Vinik Asset Management said goodbye to the largest stake of the 450+ funds we monitor, totaling close to $100.8 million in [Monsanto] stock. Sean Cullinan's fund, Point State Capital, also dropped its [Monsanto] stock, about $54.7 million worth.
These sales leave Stephen Mandel's Lone Pine Capital with the largest holdings of
Monsanto
, over $613 million worth of the company's stock. Natural News urges all investors to ditch Lone Pine Capital and take your money somewhere else that doesn't invest in "the world's most evil corporation."
Blue Ridge Capital also owns over $320 million in Monsanto stock and should be immediately abandoned by all investors.
Monsanto share prices plummeting ever since the March Against Monsanto
Source:
http://www.naturalnews.com/041737_Monsanto_share_prices_hedge_funds.html
Via
http://www.sott.net/article/265782-Monsanto-insiders-dump-stock-as-the-truth-about-GMOs-
The AMAZING Medine & Orelsan Courage Fuyons
Medine feat Orelsan "Courage Fuyons" en live dans Planète Rap.
by skyrock

TWEET #OccupyTheBanks
http://www.occupythebanks.com/search?q=GMO
http://www.occupythebanks.com/search?q=MONSANTO
http://www.occupythebanks.com/search?q=GENETICS
http://www.occupythebanks.com/search?q=DNS
http://www.occupythebanks.com/search?q=GENETIC+MANIPULATION
http://www.occupythebanks.com/search?q=AMMACH+SHELTON (don't miss it ;)
UPDATES!!!!!!!!!!!!!!!
Tweet
The White Rabbit!
#BankstersRabbit






Operations PRONTO U Human!
http://www.occupythebanks.com/search?q=OpNSA